The New Yorker's exposé of adoption broker Tara Lee tells a tale of baby brokers that is becoming far too common.
The October 25, 2021 issue of The New Yorker features the cautionary tale of Tara Lee, an unlicensed adoption broker now serving a ten-year prison term after pleading guilty to wire fraud and to illegally collecting over two million dollars in "adoption funds" from her victims.
Tragically, the story of How an Adoption Broker Cashed In on Prospective Parents' Dreams is much more common than many care to admit.
The fact is that both expectant mothers considering adoption and prospective adoptive parents are falling prey to unlicensed adoption brokers, or baby brokers.
Whether called "consultants," "advertisers," or "facilitators", they act as highly-paid middlemen to expectant mothers and adoptive parents in an adoption.
The adoption agency you're working with should be licensed, and depending on your state laws, should be licensed in your state.
In order to protect each member of the adoption triad (the adoptive parents, the birth parents, and the child), we want to bring an abrupt end to this practice. Until that time, we urge expectant mothers considering adoption to only work with a licensed adoption agency or attorney in their state. Protect yourself and spread the word with knowing how to spot these middlemen.
Illegal Brokers
While not all adoption brokers are as outright fraudulent as Ms. Lee, their involvement in an adoption compromises the well-being of all the parties. It is illegal to use an adoption broker in approximately 35 states, yet they continue to operate freely in most of those, except for New York and a small handful of others.
Even in states with the strictest adoption advertising laws, enforcement is still virtually non-existent. In many cases, the violations go unreported for fear of disrupting the child's placement, even though adoption professionals and state agencies are aware of the violations.
In others, the ones who should be reporting the violations—the licensed agencies or attorneys—are directly involved in the illegal placements.
So, ensure that your agency is licensed in your state. And, don't just trust your search engine to give you the right results...which brings us to our next point:
Illegal Advertising
Online advertising by adoption brokers is at the heart of many of the problems we are experiencing in domestic adoption. It is illegal for anyone other than a licensed adoption agency to place adoption advertisements in many states.
Unfortunately, these laws are also routinely violated without consequence. To make matters worse, many of the adoption ads that appear online are blatantly deceptive. The internet is full of people who don't necessarily have your best interests at heart (or your child's).
When a pregnant woman or hopeful adoptive parent searches "adoption agency near me," it's quite probable that they will have to skip over the entire first few pages of search results before actually finding a local, licensed adoption agency or attorney.
Instead, most of the initial search results are paid ads from unlicensed, out-of-state brokers, many of whom boldly but falsely claim to be licensed adoption agencies!
Here are a few examples that illustrate the confusion caused by this kind of advertising by unlicensed adoption brokers:
Who is allowed to advertise in Texas?
Licensed child-placing agencies only.
Penalty for Violation:
Class A Misdemeanor or Felony in 3rd Degree (for repeat offenders)
Search Term:
"Licensed Adoption Agency in Texas"
Top Paid Results:
Unlicensed brokers (IL, WY, ME), and an Attorney (CA)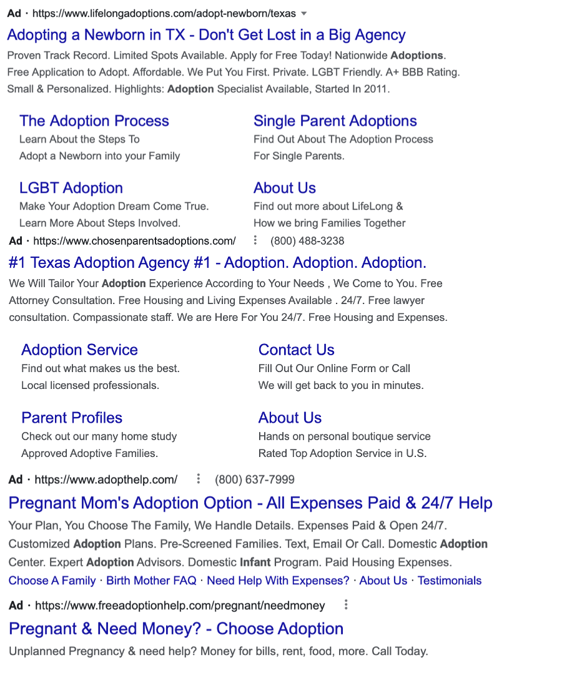 Tip:
As you can see, these adoption ads are misleading. Although they are supposed to be licensed adoption agencies in order to legally advertise for adoption in Texas, none of them are. Steer clear!
Who is allowed to advertise in Indiana?
An attorney or agency licensed in Indiana, or an IN resident seeking to adopt.
Penalty for Violation:
Class 6 Felony
Search Term:
"Adoption Agency in Indiana"
Top Paid Results:
Unlicensed Brokers (ME, IL), "Self-Matching" website (WA), Attorney (CA), Adoptive Parents (NY)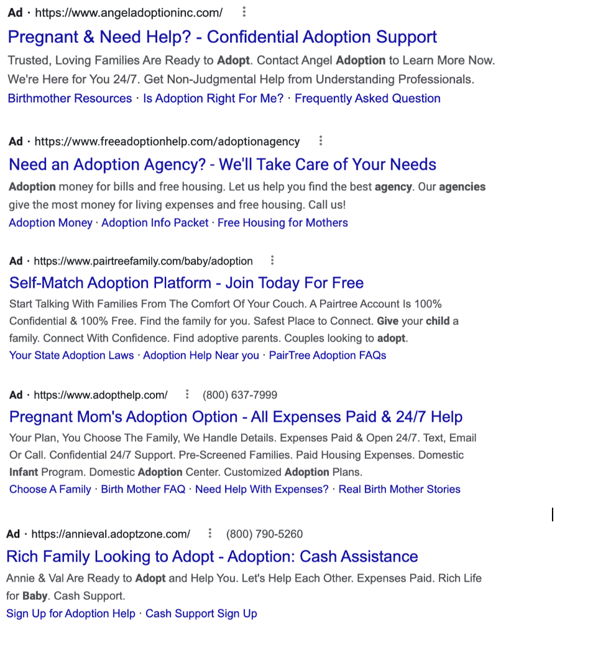 Tip:
To protect you and your unborn baby, you should always work with an agency or attorney who is licensed in your own state.
Who is allowed to advertise in California?
Only an adoption agency licensed in California
Penalty for Violation:
Guilty of a misdemeanor
Search Term:
"Adoption Agency Near Me" (Central California)
Top Paid Results (Violations):
4 Unlicensed Brokers* (CA, IL, GA), Adoptive Parents (NY), Consultant (GA)
*Note: Lifetime Adoption claims to be a CA adoption agency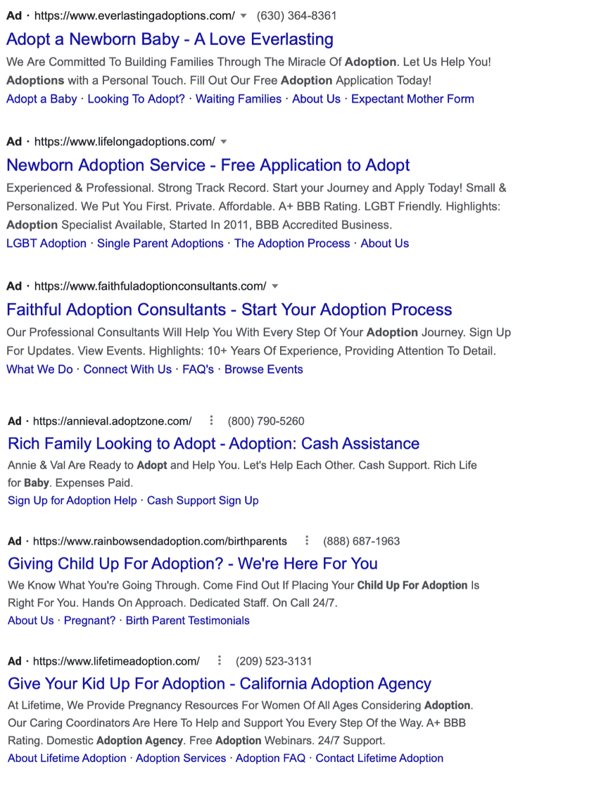 Tip:
Avoid anyone who advertises "rich family looking to adopt." And we can tell you that adoption isn't all rainbows like it's advertised here; it's hard.
While not all adoption brokers are driven only by profit, the typical consequence of their involvement in an adoption is that expectant mothers and adoptive parents are deprived of the services, support, and education necessary to navigate an adoption successfully.
Instead of treating adoption as a profoundly emotional, life-impacting process, most adoption brokers approach adoption as a business transaction. When this happens, everyone loses, except the profiteer. We hope that more baby brokers like Tara Lee get caught so expectant mothers can find licensed adoption agencies and attorneys and the services they provide.
AdoptMatch is working to build a community of licensed agencies and attorneys committed to the highest standard of ethics, so expectant mothers considering adoption can find the best adoptive families, a safe path through the adoption process, and the support they need after placement.